There's more than one type of t-shirt logo printer:
1. T-Shirt TRANSFER printers that will do logos
A t-shirt transfer printer will print onto a kind of transparency film that is THEN applied to a shirt.
2. Direct to garment logo printers
Direct to Garment t-shirt printers are inkjet style printers that print directly onto a shirt.
Two different approaches, so different sets of things you can print on.
What can you print with a Direct to Garment Printer?
Direct to garment printers mostly print up to a 16" x 20" area. But you don't have to print just ONE design. For example, you could print a BIG full-color graphic onto the front or back of a t-shirt, or you can load it up with a platen full of coaster and print individual designs on each.
Or you can print just a small left-chest logo on one side of the t-shirt and a full-color large image on the back.
Here's a short list of things you can print logos and graphics on with one of these professional inkjet DTG logo printers:
This style of a printer does best on natural fibers. In other words, cotton shirts and bags, natural wood, etc.
There are 2 BIG advantages to a digital garment printer used for shirts:
You can print a full color left chest logo on a t-shirt for PENNIES.
Take a look at this video where a DTG G4 is printing a left chest logo for a local business.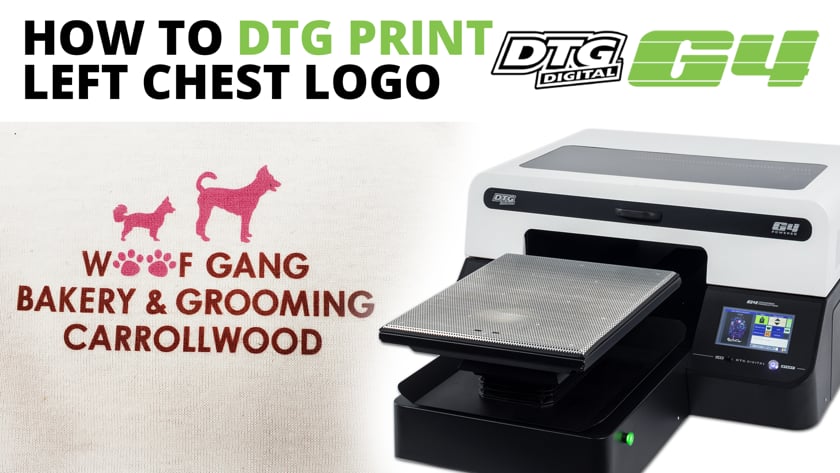 Cost per print extremely low! Because a typical 2"x3" or 3"x4" logo print is so small and with inkjet, there is NO wasted material, there is no cheaper way to produce a logo for short runs.
Different things you can print with a T-Shirt Transfer printer
If you want to brand your t-shirts with a logo on the front, or a tag, or even a message on the inside, then a transfer printer is going to be a great choice.
Because when you make a logo transfer, you can heat press the logo onto a wider variety of positions on a t-shirt.
Here are three great examples of different logo transfer printers and the kinds of things you can do with them.
Heat Transfer Vinyl Logos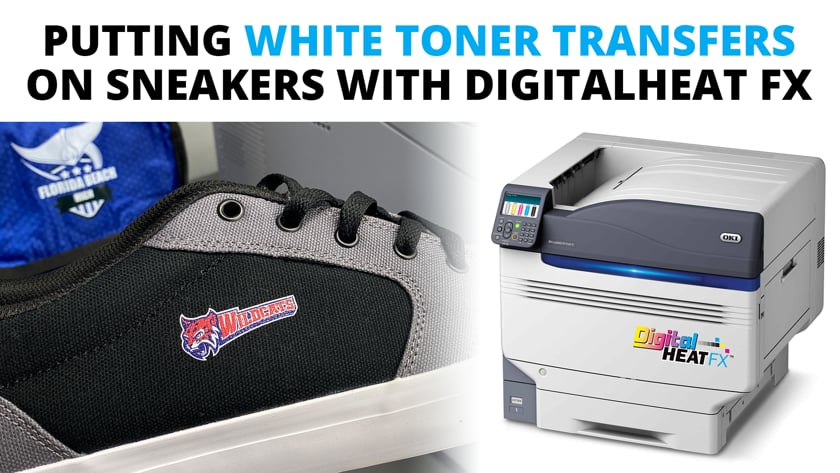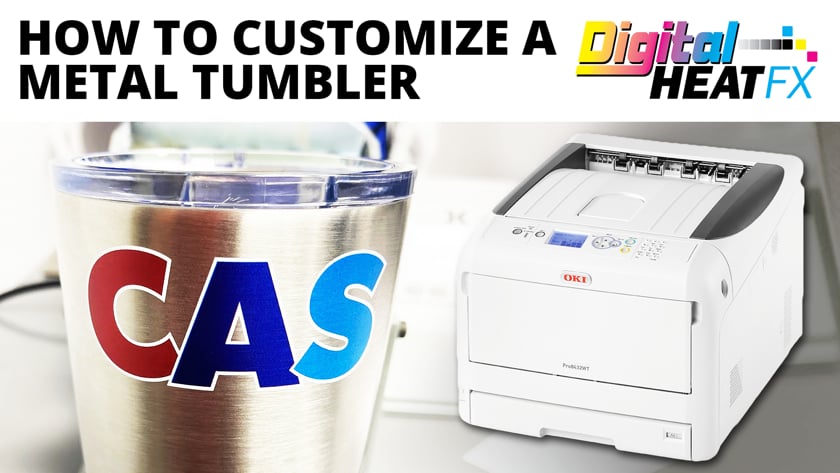 Customizing metal tumblers with logos
Almost the only limitation to using a transfer printer like the OKI pr8432WT model in the video above is what you can fit in a heat press. Remember, you can print on any of these items provided you have a heat press that will do it!
Heat Press for Printing Logos
Everything you used to print a logo is going to involve some kind of heat press.
Think of a heat press as a kind of professional-grade iron.  They are designed to apply high heat and consistent pressure to whatever you're decorating.
It's the heat and pressure that makes the ink or toner, the image, bond to what you're printing on.  However, in the case of a direct to garment printer, you'll heat the garment once during the "prep" phase and then once after you apply the logo.
You might use the same style heat press if you're going to apply a t-shirt transfer.
Heat presses for t-shirts start with a pressing area of about 12" X 12", but most professional models will apply and image of up to 16" X 20" like the ones pictured below:
But if you're going to print different shapes, you'll need to have a specialty heat press like these:
Cap Press – And if you want to do caps, hats or a large quantity of face masks you 'll need a different press actually called a "cap press"
This Hotronix Auto Cap press is ideal for caps or masks and perfect if you're doing a lot of t-shirt logo labels too.
The "auto" is a significant benefit here! It means that once the timer goes off, the press pops up, so the design doesn't get scorched.  
For a busy business owner, this can save you lots of money in ruined hats. Think of this feature like a timer on your oven going off, if your oven would remove whatever you're cooking automatically.
How much does a logo printer cost?
Whether you use it for just branding your t-shirt line with a logo or do custom prints, the printer itself will cost the same. Specialty heat presses are not included in the price ranges below.
For a Direct to Garment Printer, you can expect to pay $20,000-$25,000 or finance for around $450/month, including a heat press.
White Toner Transfer Printer
A white toner transfer printer with a heat press is going to be between around $6K and $12K depending on which one you choose.
Heat Transfer Vinyl Cutter
The best thing you can do when picking out a printer for your business is to talk over your options with someone that knows about all these different ways to print logos. A knowledgeable professional can save you money – or save you from picking the wrong equipment for your business!
Want to know more?
For more information on t-shirt logo printer options contact us or call (877) 458-0444 toll-free.