D2 Printing is being found in lots of new places. One of our customers on the Custom Apparel Startups Facebook Group posted a photo of a quilt she made using family photos she printed on to pieces of fabric – and it looked amazing!
IMAGINATION, NICHE MARKET AND DIRECT TO _____ PRINTING
There are so many applications for D2 printing (also known as DTG or Direct to Garment) other than making custom t-shirts. And we have customers that have carved out some very interesting and profitable niche markets with the same equipment that you may be looking at for t-shirts.
But MOST of them are trade secrets. Let's just say, the next time you buy something that's printed take a very close look at how it was done.
While we can't give you specifics companies, we can give you some examples.
So here are some ideas that might help you think of your own money-making niches.
Custom D2 Fabric Printing
There are some big companies out there that specialize in custom fabrics. Spoonflower is a great example; you pick your pattern and order by the 1-yard square.
D2 Printing is a direct to garment process, but when it comes down to it, t-shirts are just assembled from pieces of fabric.  That fabric can be printed directly.
What else can you do with custom printed pieces of fabric?
You can do like Candi Albaugh from High Cotton Factory and print photos onto fabric to incorporate into someone's future family heirloom. The kind of quilt that gets passed from one generation to the next.
You can also create custom pillows like in this video. You can do your own designs – pick your niche market; classic car pillows, horses, cats, cityscapes – whatever your interest is can be printed on fabric and made into a pillow or directly onto a pillowcase.
A quick search of Etsy will show you a price range of $20 each to in the hundreds of dollars.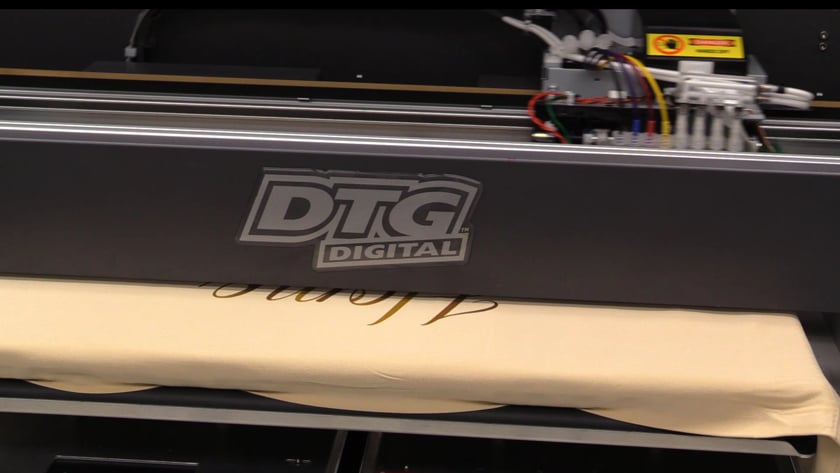 You might be surprised, but in many parts of the world, DTG Printing is used in manufacturing clothing, not in decorating already made t-shirts.
T-shirt or apparel manufacturing is often referred to as "cut and sew" when done on a more boutique scale.
If you are or know a home sewer that makes clothes from scratch, you have seen part of this process in action.
With D2 Printing you can decorate panels of the cut fabric – fitting many on a single platen in some cases – and THEN assemble.
Some companies even create an all-over-printing effect this way.
Our own resident DTG Guru, Heath Schumacher, had a business that printed custom signs on wood for his customers.
There are lots of great applications – that means money-making opportunities – printing small signage with D2. Since the M2 can print up to 17.7" X 24" can both business signs like these:
Nearly anything that you see in a business where wooden signs make sense is a good application for DTG.
But the real fun printing on wood is for novelty and niche markets.
Here's a good example – we've got one BIG customer that does their DTG printing onto wooden coasters and wedding invitations.
That's a REAL money maker.
Go online and search for "Wooden Wedding Invitation" and see what they sell for. Then imagine what ones printed in full color would go for.
The most common "off-script" use for DTG Printing is probably printing on pre-stretched canvas.
The advantage a direct to garment printer has in printing images onto canvas are the same as those for making custom t-shirts:
We've done several videos on printing on canvas, but let's break down the process here:
1.Custom sends you a good photo
2.You pretreat the canvas and dry
3.Print the photo on the canvas and dry
4.Give it to the customer
Depending on the size of the print you could have a happy customer in 10 or 15 minutes total.
And charge them MORE than doing the same process on a blank t-shirt.
If your main business is custom tees and you do a family reunion, a memorial shirt or any other personalized design – offer your customer the same print on canvas and watch your average sale increase.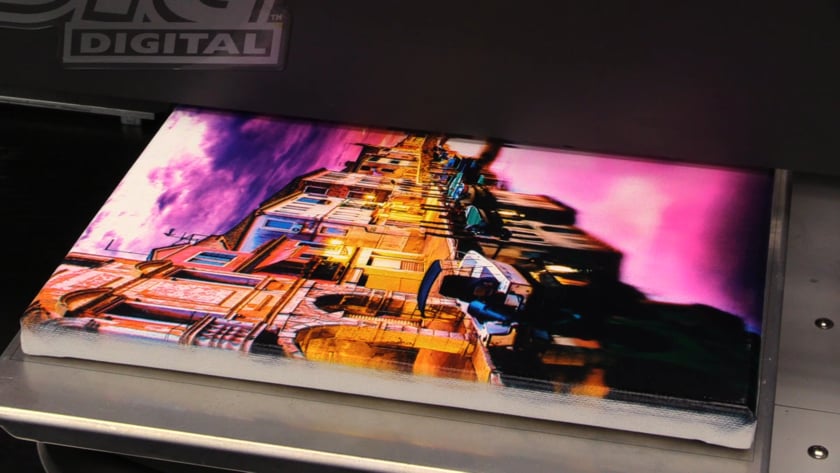 Even MORE DTG Printing Applications
Now that you've gotten a look at what other people do with their Direct to Garment Printers – what's your niche market or off-script business idea for DTG?
Call ColDesi today 877-458-0444 or click this link to contact us about the possibilities.