RIP Pro C6 – Included with Every DTG Printer
RIP software (Raster Image Processing) plays a key role in how happy you will be with your image quality, job management, printing process and cost per print.
RIP Pro C6 software has been engineered specifically for our M-Series printers and ink sets to give you the power and flexibility to run your business profitably.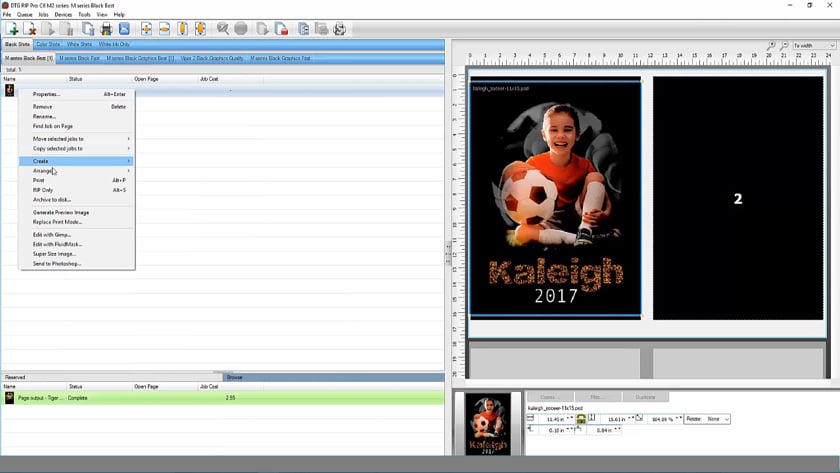 New DTG owners will appreciate features like:
We've developed the best combinations of print quality, resolution and ink usage so all you have to do is pick the Mode that meets your job requirements.
You set your ink costs, labor costs and even overhead percentages and RIP Pro will give you the cost of printing a shirt IN ADVANCE of your printing. Prefect for pricing your work.
Import dozens of graphics and set up your print jobs for the day, then simply print one after the other. SAVE those settings for each jobs so you can save time on repeat customer work.
Rotate any graphic, dynamically resize, and knock out black or some other color depending on the color shirt. Features made to speed your workflow.
Graphics and printing professionals will also find a lot to offer in RIP Pro C6 including:
RIP Pro is included with every purchase because we know what an integral part it will play in the success of your business. You'll be more profitable with DTG and RIP Pro C6!
Industry-leading white ink management
Proper use of white ink is essential to printing images onto black or dark colored fabrics. RIP PRO C6 advanced use of layer technology automatically creates an under base layer that can be sent to a production queue directly from a design application.
CMYK and RGB File Color Support
A wide range of process colors and true photographic-quality image printing. Conversion of color spaces (RGB to CMYK) can create unwanted color shifts. Since most apparel printers work with CMYK, RIP PRO C6 is able to provide sought after color results.