Using the 8-10-12 Principal takes advantage of digital t-shirt printing's ability to easily scale your artwork to match the t-shirt size. And that means happy customers and more profits for your business... if you do it correctly.
When we think about direct to  garment printing or making a digital transfer, we often think about doing one off designs with lots of color or photo realistic prints.
That's one of the reasons what people adopt digital technologies, vs screen printing for example, but not the only one by far.
What digital printing is really about is giving your customers what they want, not about forcing them into a decoration method that requires lower colors or higher quantities to make sense.
Being able to variably size a graphic for different size shirts, regardless of the quantities of each, is another reason digital is taking over the custom t-shirt printing business.
The 8, 10, 12 Principal for Digital Garment Printing
In the example below we have chosen a full color graphic for a dark/black garment. The shirt sizes we are using are a small, a large and an XXL (2XL).
Measuring the shirts we used here across the front from the bottom of the left armpit to the right we get the following measurements.
Imagine applying the same size graphic to each shirt… and how different they would look!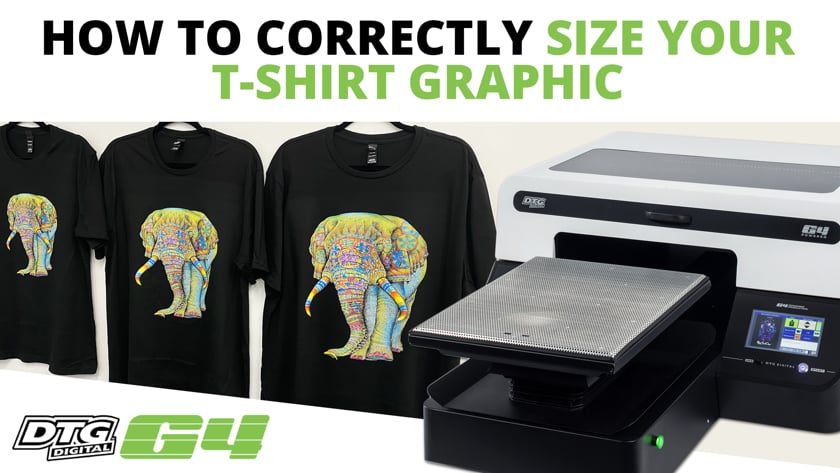 It is very difficult to design a graphic that is "one size fits all" for this scenario. Having said that, most screen printers would simply use a 10" graphic and be done with it. Because there's no way you're going to set up 3 different size prints for the same graphic unless the quantities are HUGE. The set up cost for each is just too great.
But, with digital, it is easy to quickly adjust the size of your graphic to better fit the garment and create a more consistent look across all sizes of shirts.
Printing the same graphic – 3 different sizes
We wanted our graphic to roughly cover ½ of the width of the shirt at the armpits.