Who Is Digital T-shirt Printing Good For?
Customized t-shirts and other clothing is now a BIG business. But you don't have to be a big company to get in on the profits.
That's because digital shirt printers have gotten just cheap enough to be a good option for home based businesses.
It used to be that you had to be able to print thousands of t-shirts at a time to have a real business. The screen-printing equipment you needed to print more than one color at a time took up tons of space, used some pretty nasty chemicals, and was very, very messy.
But now, digital printers that fit into a 10×10 back bedroom or office can do everything those big systems used to do, and more.
So who IS digital t-shirt printing good for? Anyone with an eye for design, decent credit or cash in the bank, and a willingness to what needs to be done to start and run a business.
What are Digital Shirt Printers?
A printer for T-Shirts and Clothing is a specialized full-color inkjet computer printer.
If you wanted to print a funny graphic on a piece of paper, what would you do?
2. Load paper in your printer
If it's an inkjet color printer you use at home you know that the ink comes in cartridges by color. And that the colors don't run out evenly. Sometimes you have to replace one before the rest are empty.
Now, imagine a much bigger printer – one that you put a t-shirt into instead of a piece of paper.
THAT's what a digital shirt printer is. A large inkjet printer that prints directly onto a shirt or other garment.
Digital shirt printers are also called:
If you're searching around the internet, those terms are used interchangeably.
Of course, a professional shirt printing machine is going to be more complicated than your home inkjet printer. And more expensive. But that should give you a good reference point.
What can one of these printers do?
Imagine the best-looking full color photo or graphic on a t-shirt you've ever seen. That's what a digital garment printer can do.
These printers are what the biggest names in online printing use to make custom t-shirts. So if you're thinking about what your business would look like, picture this:
Someone sends you a picture of their son playing football and they want that picture, with his name and number on it, on 5 different sized shirts. One for each parent, one for each grandparent, and one kid's size for a little brother.
You make those shirts in under an hour for $20 or $25 each. They look AMAZING and the customer is very excited when they get them.
YOU have a hilarious idea for a Father's Day t-shirt. You pay a graphic artist $50 to create a really colorful, eye-catching version and print one out on your digital clothing printer. Looks fantastic!
So you take a few pictures, put them on your website, and immediately start getting orders. At the end of the month, you realize you sold 100 of those shirts and made about $15 each. You get inspired to create 3 more and do it all again next month!
That's what one of these printers can do. They can help turn your customers' ideas into great t-shirts. Or give you the chance to make money from YOUR ideas. Or both.
There's a video below that will show you what it's like to use a direct to garment printer, but here's a breakdown of the basics: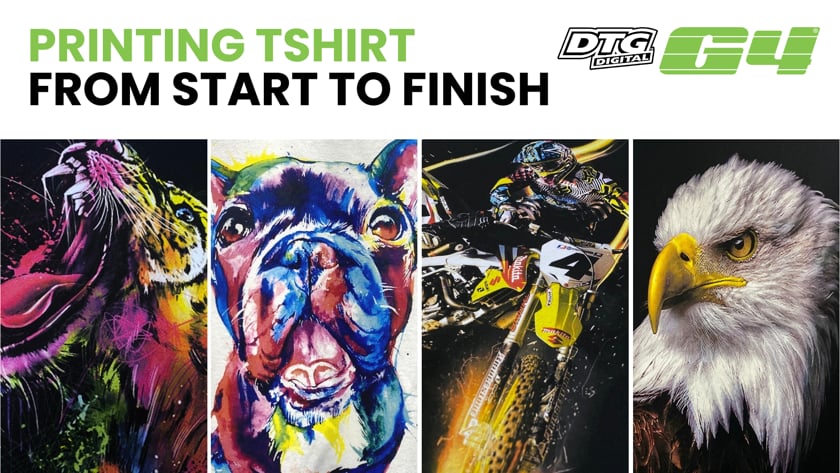 It takes about a minute or less on a heat press to do 2 things:
This is like pressing a commercial iron onto the design. It's one of the things that gives the image a long life through many, many washes.
How much is a Digital Shirt Printer?
They're between about $19,000 and $25,000 for the professional model you'll want. There are some that are super cheap – as low as $5K, but they're not really for business use – and there are some that are $250K which is out of most start up businesses range.
That sweet spot of the low 20s will let you finance for about $400/month and get a system that wont hold you back from being successful. And if you do end up financing the printer you normally only need to sell 40 or 50 shirts per month to make your payment. The rest is gravy!
There's a great article about how printer financing works right here.
Can I make money doing it?
Yes, you can. And LOTS of people do.
But the printer doesn't make you money at all. YOU make your money when you sell a shirt.
It's like becoming a plumber or buying a factory or starting a donut shop. Just because you can "plumb", make widgets, or create great donuts doesn't mean people will line up to buy them.
You have to have some way to get customers in the door! That can be something you already have built-in, like connections to a church that needs shirts, participation in a hobby that has a built-in need for what you do. Or it's something you're going to create – with marketing, or networking, or digital advertising.
Once you have customers though, you are probably going to make between $15 and $30 per shirt depending on your market. And each shirt only takes a few minutes to print – so you can do your own math on the size of the opportunity!
If you want to see a more specific return on investment for digital shirt printing check this article out: DTG G4 Return on Investment
How to Decide
You can do lots of research on the web about custom apparel printing and get into that business, but it's best to talk to a pro and get your questions answered upfront. Just chat below or click below to get more information on digital shirt printers.